Whether your cruise is 3 nights or 7 nights, embarkation day should count as one of your days to enjoy the ship. We've put other our guide to make the most of Day One regardless of which port you are departing from or your itinerary.
Arrive Early
Always plan to arrive early to the port on embarkation day. You've paid to enjoy your first day onboard and you want that day to start as soon as possible. For cruises departing between 3-5 pm, try to get to the port by 10:30am. Depending on how the previous cruise debarkation process is going, you may still need to wait in the terminal for boarding to commence, but you'll be in he first wave.
Keep in mind that some cruise lines, like Carnival Cruise Line and Disney Cruise Line use a staggered boarding system, and you will need to select a check-in time prior to arriving at the port of embarkation. If this pertains to your cruise, then try to select the earliest time-slot available. Unfortunately, these systems favor those that book early, so the prime check-in times are typically taken if you book last minute or within weeks of departure.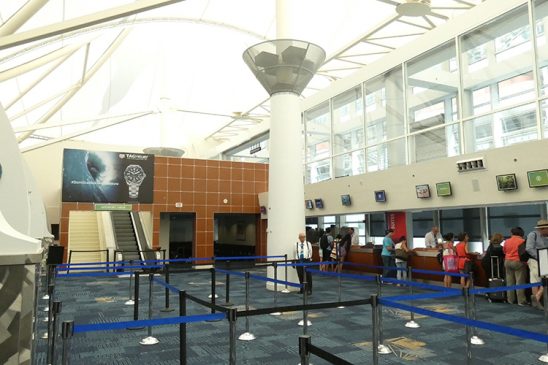 Pre-Reserve Packages
If you plan on purchasing a beverage package, specialty dining or spa services, pre-reserve these online before you get to the ship. With the beverage package, you'll be able to start enjoying your first drink the moment you get onboard, instead of waiting in a long line first. Day one reservations for specialty dining or making changes to regular dining can be hectic and occasionally after a long wait, you'll find that your preferred time or restaurant is not available. It's the same situation with spa reservations and there is usually a mad rush to get sea-day appointments.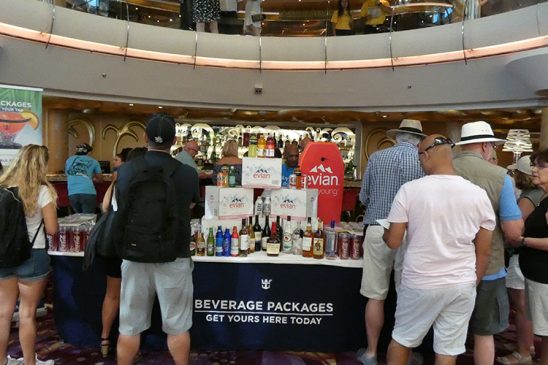 Check-In Large Pieces of Luggage
You'll definitely want to carry a small bag with you onboard for your important possessions (camera, medications, travel docs etc.) and don't forget the bathing suit and sunscreen, so you can get out and enjoy the pool deck. Any other non-essential items and large bags should be checked-in at the terminal. If you followed our earlier advice and arrived early to the port, you will still need to wait, sometimes until 2pm to get into your stateroom. The last thing you want to do is lug around large bag for hours. It is also not uncommon for many elevators to be very busy at boarding time or out of service on embarkation day as they are used to deliver luggage, so you may need to resort to taking the stairs at least a few times.
If you absolutely need to have your bags with you, keep them out of the way, don't take up huge areas of seating (especially in the restaurants) or block passage ways for other guests.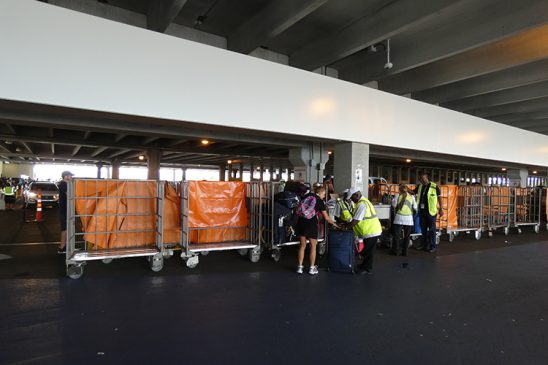 Enjoy a nice Lunch Away from the Crowds
The first thing that most cruisers want to do when they get onboard is eat and many of those people will head to the casual buffet restaurant, usually located towards the top of the ship. While there will be a nice variety of dishes to satisfy you at the buffet, find out if there are any alternative venues open for lunch. Many times people do not know or even bother to inquire if other spots might be open for lunch on embarkation day. On some cruise lines, they may open the main dining room for lunch. After a stressful day of traveling, imagine enjoying a meal in a more peaceful environment with waiters ready to take your order, instead of hopping around a buffet line. On some cruise lines you may also find other options like a pizzeria, outdoor grill, sandwich bar or cafe.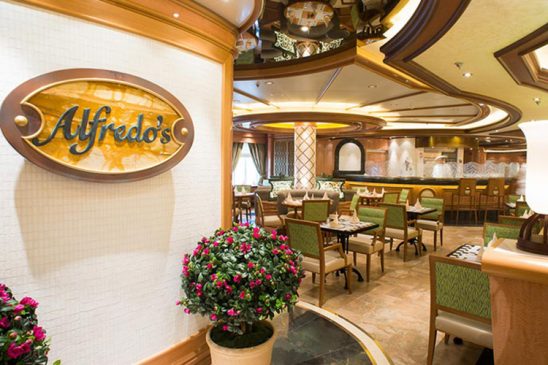 Get a Jump on Activities
On many of today's cruise ships you'll find some amazing activities. Since you boarded your ship early and have already eaten, you are now able to take advantage of minimal wait times for some of the most popular offerings. It is possible that not all activities will be open as soon as you board, as crew will be busy with other embarkation day tasks, but by noon, most ship activities will be in operation. There will no better time during your cruise (other than staying onboard in port), to try out activities like a Zip Line, Surf Simulator, Ropes Course, Water Park, Rock Climbing and many others.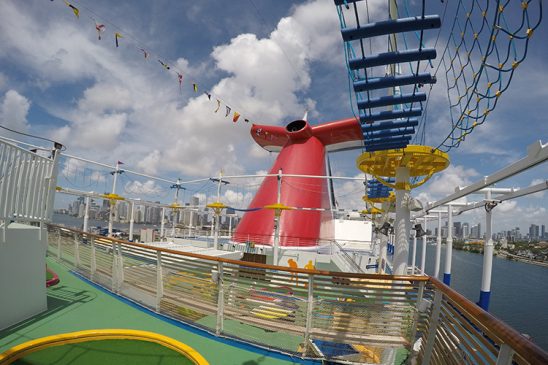 If you plan things right, make good choices along the way and allow yourself to follow your own direction instead of the flow of your fellow cruisers, you can get really get the maximum value and enjoyment from your first day onboard your cruise.