2018 looks to be a stellar year for new cruise ship deliveries. For the first time in a long time, almost all of the major cruise lines have new ships set to debut in the same year. Our list includes the world's largest cruise ship, the first cruise ship using liquefied natural gas and others with many technological advancements and breakthrough design elements to excite even the most hardcore cruise fanatic.
Symphony of the Seas (March 2018)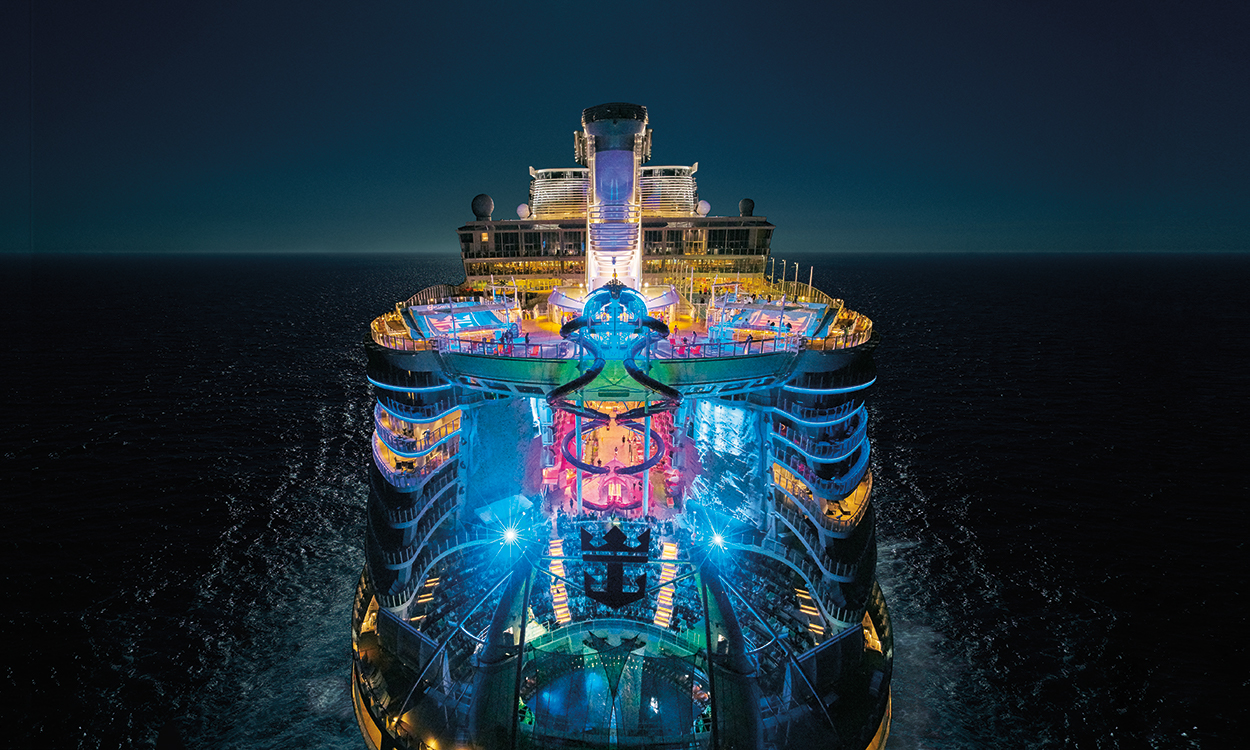 Cruise Line: Royal Caribbean International
4th Oasis-Class Ship
Home-Port: Miami, Florida
Size: 230,000 Gross Tons
Guests: 5,535 (double)
Crew: 2,100
Following in the tradition of other Oasis-Class ships, Symphony of the Seas will take WOW to a new level. As the holder of world's largest cruise ship, Symphony of the Seas will offer favorites like the Ultimate Abyss slide, Zipline and the Perfect Storm Water Park, while introducing new dining concepts, all new ice skating and AquaTheater shows, expanded Boardwalk offerings and a new ultimate family suite complete with its own slide, floor-to-ceiling Lego wall and air hockey table. Guests can also look forward to glow-in-the-dark laser tag and a new mobile check-in system using facial recognition to make getting to all the excitement easier. Symphony of the Seas will start her inaugural season in the Mediterranean before re-positioning to Miami, Florida in November. A new stunning terminal called the Crown of Miami is under construction to accommodate the first Oasis-Class ship at PortMiami.
Carnival Horizon (April 2018)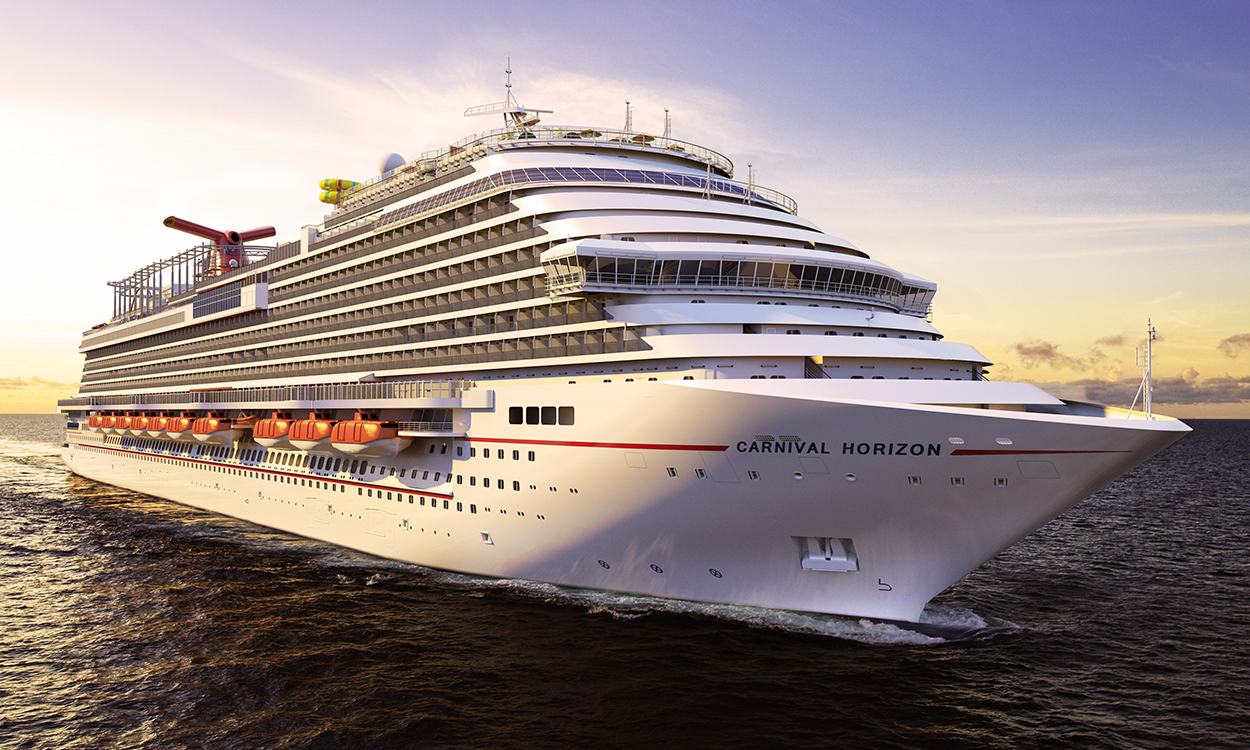 Cruise Line: Carnival Cruise Line
2nd Vista-Class Ship
Home-Port: Miami, Florida
Size: 133,500 Gross Tons
Guests: 3,960 (double)
Crew: 1,450
Offering most of the exciting activities of her sister Carnival Vista like the SkyRide and the IMAX Theater, Carnival Horizon will strike her own identity with some unique offerings. Firsts within the Carnival fleet to debut on Carnival Horizon include Bonsai Teppanyaki, a Dr. Seuss themed WaterWorks and Guy Fieri's Smokehouse and Brewhouse. After a few introductory cruises in the Mediterranean, Carnival Horizon will spend the Summer in New York with cruises to Bermuda and the Caribbean before heading to her homeport of Miami, Florida. From Miami, she'll sail alternating 6 and 8 night Caribbean itineraries.
Norwegian Bliss (April 2018)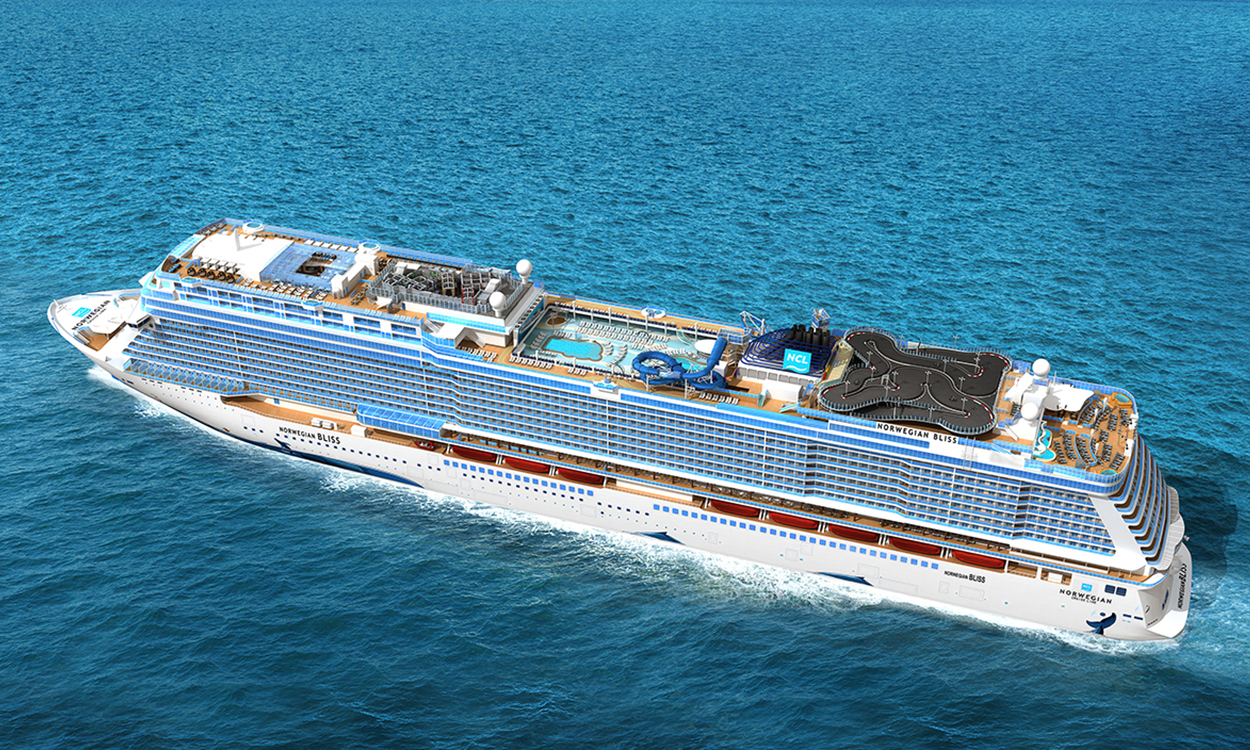 Cruise Line: Norwegian Cruise Line
3rd Breakaway Plus-Class Ship
Home-Port: Miami, Florida & Seattle, Washington
Size: 167,800 Gross Tons
Guests: 4,004 (double)
Crew: 2,100
Ready for her bi-coastal debut in April 2018, Norwegian Bliss promises to deliver big views and big thrills. Imagine taking in the beauty of Alaska or the lush green hills of a Caribbean island from the comfort of a 180-degree observation lounge or feeling the exhilaration of the twists and turns on a racetrack onboard a cruise ship. You can experience both onboard Norwegian Bliss. Add to that laser tag, sensational entertainment, new dining venues and familiar favorites like the Aqua Park, Spice H20, The Waterfront and more and you'll see that sailing on this ship will be truly Bliss. Norwegian Bliss will sail from Seattle to Alaska during the Summer months, from Miami to the Caribbean during the Winter and Panama Canal and Mexican Riviera cruises when the ship re-positions between the East and West coasts.
MSC Seaview (June 2018)
Cruise Line: MSC Cruises
2nd Seaside-Class Ship
Home-Port: Barcelona, Spain, Genoa, Italy, Marseille, France, Messina, Italy, Naples, Italy
Size: 154,000 Gross Tons
Guests: 4,134 (double)
Crew: 1,413
Continuing the revolutionary design elements of her sister MSC Seaside, MSC Seaview will offer guests an unparalleled connection with the sea. Virtually identical to her sister, MSC Seaview will feature an expansive Water Park, 360-degree outdoor promenade, the exclusive Yacht Club, interconnecting family accommodations, lively entertainment and much more. Starting in June 2018, MSC Seaview will spend her inaugural Summer and Fall in the Mediterranean before transitioning to South America with cruise from Santos, Brazil for the Winter months.
Celebrity Edge (December 2018)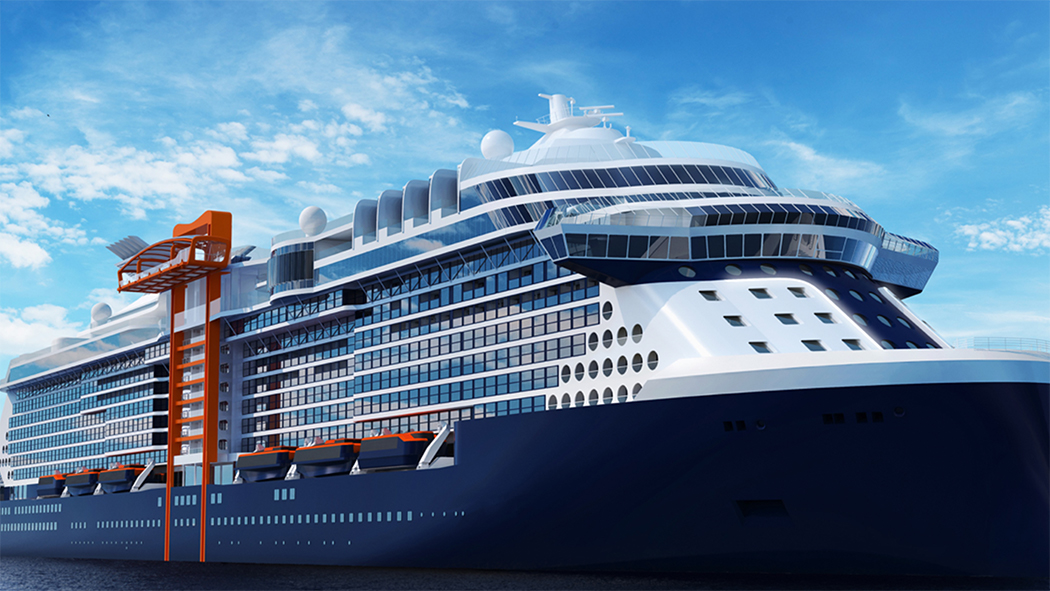 Cruise Line: Celebrity Cruises
1st Edge-Class Ship
Home-Port: Fort Lauderdale, Florida & Rome (Civitavecchia), Italy
Size: 129,500 Gross Tons
Guests: 2,918 (double)
Crew: 1,320
As the first new ship from Celebrity Cruises in five years, Celebrity Edge is literally taking guests experiences to the edge as well. Throughout the entire ship, past Celebrity guests will feel at home, while the new innovations and spaces are designed open up the ship to the ocean all around. Take a flight on the Magic Carpet, relax in the comfort of your stateroom with Infinite Verandah, escape to Eden, a new venue that transforms from day to night, stroll through the Rooftop Garden and plan your time ashore in the Destination Gateway. Celebrity Edge will debut in Fort Lauderdale, Florida in December and offer seasonal alternating 7 night Eastern and Western Caribbean itineraries. In April 2019, she will re-position to Europe for Summer cruises in the Mediterranean.
AIDAnova (December 2018)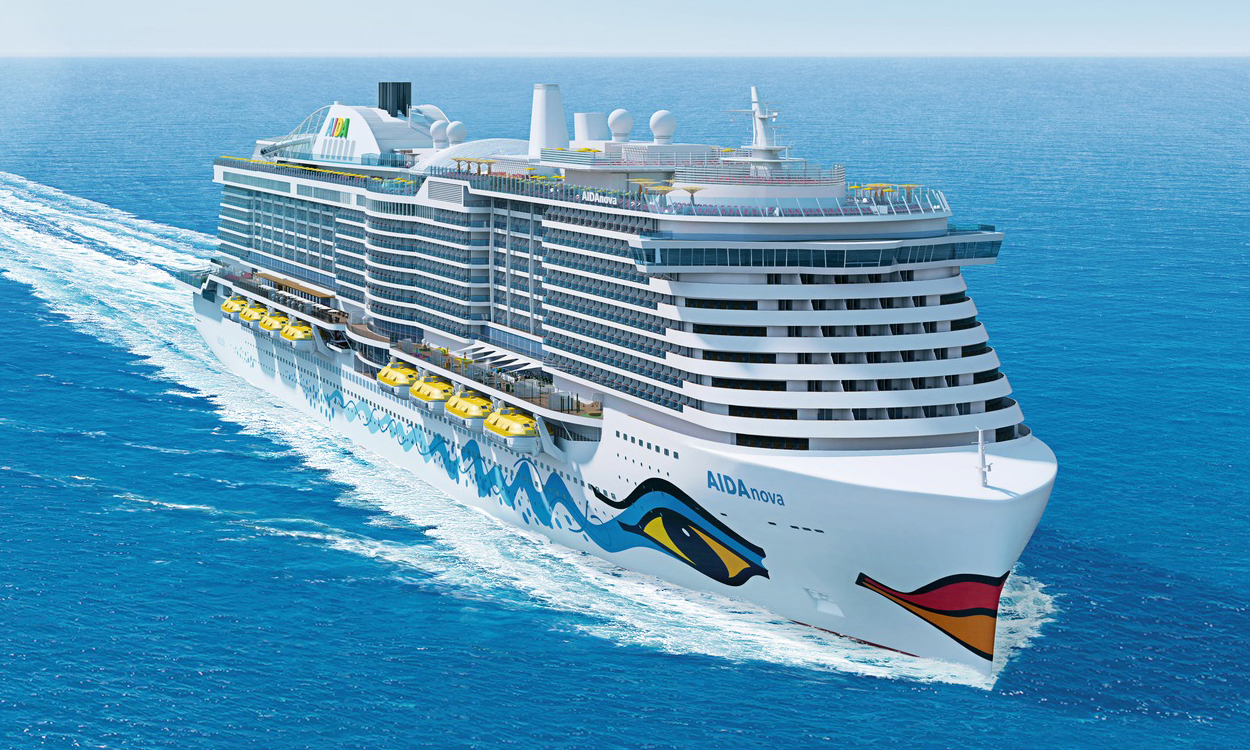 Cruise Line: AIDA Cruises
1st Helios-Class Ship
Home-Port: Santa Cruz de Tenerife, Tenerife; Las Palmas, Gran Canaria
Size: 180,000 Gross Tons
Guests: 5,200 (double)
Crew: 1,500
AIDAnova, the latest ship from German cruise line AIDA Cruises, will be the first cruise ship to be able to run 100 percent with LNG (Liquefied Natural Gas). This will create almost zero emissions and make her one of the most energy efficient cruise ships in the world. Aside from these advancements, AIDAnova will offer her guests many incredible experiences onboard. Enjoy a tropical inspired indoor waterpark, crack the code of the Mystery Room, relax in the Beach Club where it always feels like Summer, add to that 16 restaurants, 17 bars over 20 types of accommodations and a very stylish and contemporary décor throughout the ship. Set to debut in December 2018, AIDAnova will spend her inaugural winter season in the Canary Islands.
ms Nieuw Statendam (December 2018)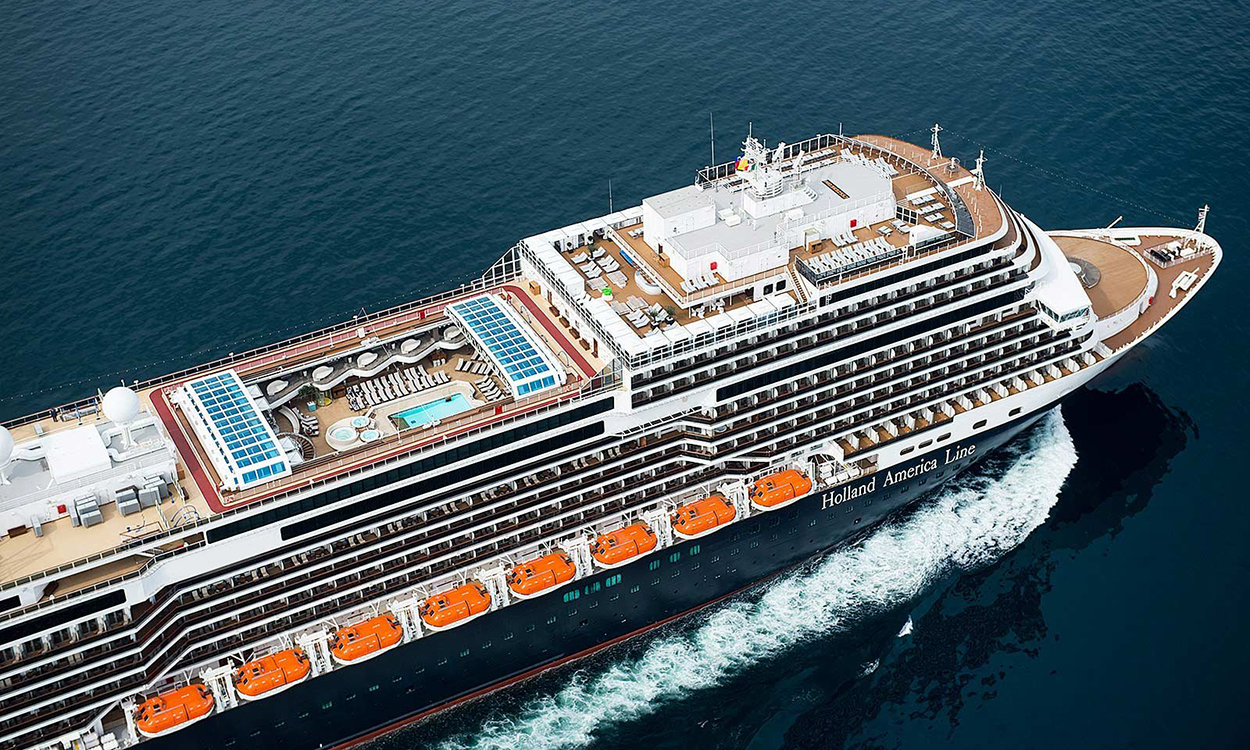 Cruise Line: Holland America Line
2nd Pinnacle-Class Ship
Home-Port: Fort Lauderdale, Florida
Size: 99,500 Gross Tons
Guests: 2,650 (double)
Crew: 1,025
As the second Pinnacle-Class ship, MS Nieuw Statendam will offer elegant style and a sophisticated décor. Guests will enjoy several unique dining venues throughout the ship including the classic Pinnacle Grill, and immersive activities like America's Test Kitchen, Digital Workshops and BBC Earth Experiences. Entertainment comes alive at B.B King's Blues Club, Lincoln Center Stage, Billboard Onboard and more. Starting with her debut in December 2018, Nieuw Statendam will sail from Fort Lauderdale to the Caribbean for the Winter season and then re-position to Europe in April 2019.