At the official handover ceremony event at the Fincantieri shipyard in Monfalcone, Italy, Princess Cruises took delivery of Sky Princess.
The milestone handover ceremony was attended by executives from Carnival Corporation & plc including Micky Arison, Chairman of Carnival Corporation; Arnold Donald, President and CEO of Carnival Corporation; Stein Kruse, Group CEO of Princess Cruises, Holland America Line, Seabourn, Carnival Australia and Carnival UK, and Jan Swartz, Group President of Princess Cruises and Carnival Australia, Fincantieri was represented by Giuseppe Bono, CEO.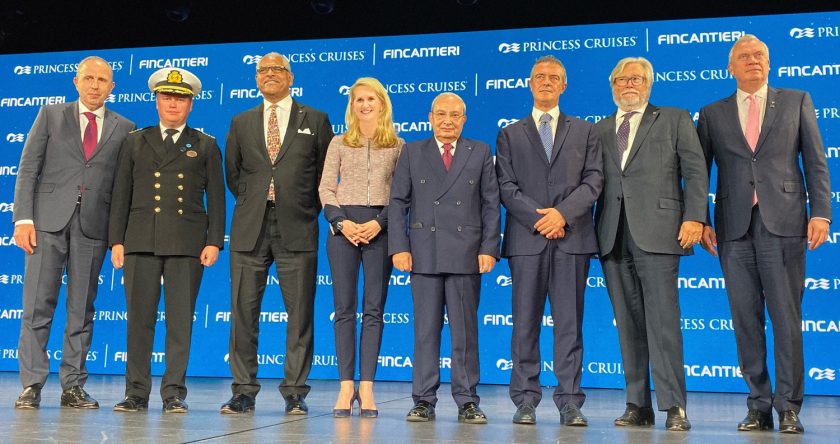 Jan Swartz, president of Princess Cruises said:
"We wish to extend our sincere gratitude to our long-time shipbuilding partner Fincantieri who delivered Sky Princess to us today,"

"As our new flagship in the fleet, Sky Princess represents the absolute best Princess Cruises has to offer our guests by connecting them with what matters most, unique destinations, loved ones, and new friends, while enjoying all the state-of the-art experiences in comfort and style."
While Sky Princess is the line's fourth Royal Class vessel, it marks the first time a ship has been purpose-built as a Princess MedallionClass™ ship. Featuring the complimentary OceanMedallion™ wearable device, MedallionClass vacations deliver an entirely new level of service and creates a vacation that is more seamless, effortless and personalized. Additionally, a number of enhancements were made to the ship's design, which in some areas has created brand new experiences. Sky Princess debuts the new luxurious Sky Suites, with expansive views from the largest balconies at sea. In addition, two new entertainment experiences are offered- Phantom Bridge, a world's first game combining digital and physical elements for the ultimate immersive escape room, and Take 5, the only jazz theater at sea, celebrating the iconic sounds, culture and history of jazz.
Princess MedallionClass Vacations are resulting in high guest satisfaction scores, thanks to a portfolio of experiences specifically designed to enhance their cruise vacation, including:
Expedited Arrival – From curbside to poolside in a breeze: Personalization starts pre-cruise as guests become OceanReady™ before arriving at the port. Guests who arrive at the terminal having uploaded their travel documents (i.e. passports) to their profile enjoy a streamlined and expedited check-in process that gets their vacation started even sooner.
On-Demand Services – Food, beverage, retail orders and service delivered to your location: Using smart devices and stateroom TVs, guests have the ability to order drinks, food and retail items like sunscreen with OceanNowTM and have them delivered directly anywhere on board.
Family and Friends Locator – Finding travel companions and directional ship information: Accessible on portals throughout the ships and via guests' smart devices, OceanCompassTM leverages the OceanMedallion to easily locate and chat with friends and family on board, as well as enables point-to-point wayfinding throughout the ship. OceanCompass guides guests throughout their journey, providing directional information so they can seamlessly navigate to their next point of interest.
Sky Princess will start her inaugural season in Europe on a seven-day Mediterranean & Adriatic maiden voyage from Athens to Barcelona on Oct. 20, 2019. The ship will sail a series of Mediterranean voyages before debuting in North America on Dec. 1, 2019, for a season of Caribbean cruises from Ft. Lauderdale.
For more details, visit Princess Cruises website