The Harmony of the Seas joined Royal Caribbean's fleet in 2016. She is currently the second largest cruise ship in the world, accommodating up to 6,687 passengers.
If you're planning to cruise on the Harmony of the Seas out of Port Canaveral, we've got a ship overview, travel tips for before and after your cruise, and a discount code to kick off your vacation right.
Harmony of the Seas – Ship Overview

The Harmony of the Seas enhanced the popular Oasis Class design and features found on sister ships Oasis and Allure by bringing new onboard experiences, dining and entertainment options to the already amazing lineup of things to do.
Ship Stats:
Maiden Voyage: May 2016
Last Refurbishment: N/A
Size: 226,963 GT
#Guests: 6,687 (max occupancy)
Dates & itineraries:
Departure Months: Now through March 2021
Itineraries: 7 Night Eastern & Western Caribbean
Accommodations
As one of the largest cruise ships in the world, you can imagine that Harmony of the Seas has an array or accommodations. Of course she has the complement of standard rooms, but you'll find studio rooms perfect for the single cruiser, interior rooms with a real-time view from a virtual balcony, neighborhood rooms with bay windows overlooking the Royal Promenade and even balconies facing the Boardwalk and Central Park. For the ultimate in luxury, Harmony also features two story loft suites with massive walls of windows and upgraded touches throughout.
Dining
A big ship equals even more dining choices. Starting with the three-story main dining room, other complimentary dining choices include Sorrento's Pizzeria, Café Promanade, Vitality Café, Boardwalk Dog House, Park Café, Solarium Bistro, Mini Bites, Windjammer Marketplace and Coastal Kitchen for suite guests. For something a little different, there are several specialty dining venues including Izumi Hibachi & Sushi, Johnny Rockets, Sabor, Jamie's Italian, Chops Grille, 150 Central Park and Wonderland.
Entertainment
You'll be more than entertained onboard Harmony of the Seas with unique venues designed to bring you closer to the action. In the ship's Royal Theater, enjoy shows like Grease, The Musical, and the satirical production show Columbus, the Musical. Catch some laughs in the Attic Comedy Club, smooth sounds at Jazz on 4 and incredible ice shows in Studio B. There's also the Latin vibe of Boleros Lounge, live music in the Boot & Bonnet Pub and Schooner Bar. For a truly out of your seat experience, the shows in the AquaTheater will combine the talents of high divers, acrobats and aerial artists with dancing water displays moving to an energetic score.
Activities
It's ok if you can't do all the activities onboard Harmony of the Seas, there are lots of them. Take to the ice with open skating for guests, belt out a karaoke tune at the On Air Club, get in a workout and relaxing time at the Fitness Center & Spa, ride the Boardwalk Carousel and reach new heights on the two climbing walls. For parents looking for some time to themselves, toddlers, kids and teens each have their own supervised programs. You can also take on the challenge of the escape room, whip down the three waterslides and enjoy 3 pools, Splashaway Bay kids splash pad, Harmony Dunes mini golf, sports court, zip line, dual FlowRiders and dare to ride the Ultimate Abyss slide.
Also Watch: Harmony of the Seas – Cruise Ship Tour (2019)
Travel Tips

Choosing an Airport
If you're flying in for your Harmony of the Seas cruise, selecting an airport is the first decision you'll make. There are 3 Orlando Airports: Orlando Sanford, Orlando Melbourne, and Orlando International Airport. Out of all of them, The Orlando International Airport has the shortest travel time to Port Canaveral — making it the most popular choice among frequent cruisers. It's 45-miles away, but with its direct highway access, you'll arrive at your terminal in under an hour.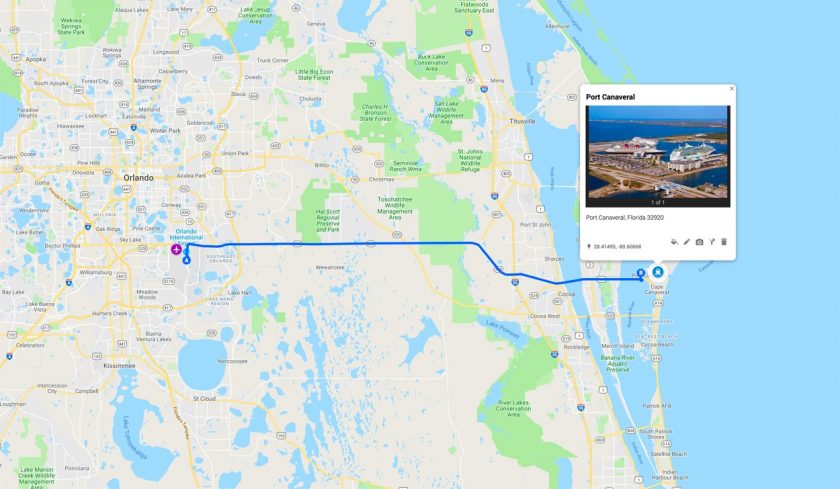 Transfers
After booking your flight, you'll need to decide how you're getting to the port. Ship departure days at the airport are always busy, with thousands of cruisers needing a ride to Port Canaveral — so you'll want to pre-arrange transportation before you land.
A shared shuttle service is the easiest and most practical way to get to your terminal. Besides saving money, you can avoid waiting in long lines for car rentals, taxis, and ride sharing services that charge peak rates for this in-demand time. GoPort.com is the leader in airport to cruise port shared shuttle transportation — known for their award-winning service that costs less than half the price of the cruise lines'. Simply book your ride ahead of time and GoPort will take care of the rest. When you arrive at the airport, you'll just check in at their counter and in no time, you'll be enjoying a relaxing ride to your terminal entrance.
Hotel Packages
If your flight lands the day before, or you decide to drive in a day early, you'll need to plan a hotel stay in addition to arranging transportation and parking. Luckily, with GoPort.com, you can book everything all at once. Their hotel packages are designed to help cruisers save planning time and money. For cruisers flying in, GoPort.com's Fly Snooze Cruise packages include a hotel stay, round-trip airport transportation, and transfers to your ship for every member of your party. Whereas their Snooze Park Cruise packages are ideal for cruisers driving in from anywhere — complete with a hotel stay, cruise parking, and transfers to your ship. The only thing left for you to do is pick from one of their Orlando or Port Canaveral hotel options featuring brand names you already trust and there's over 30 to choose from!
Curious about where other cruisers are staying? Here are GoPort.com's top 4 cruise hotel packages that other Harmony of the Seas cruisers are booking:
(1) Marriott Lakeside Orlando Airport: Available exclusively for those flying in, GoPort.com's Fly Snooze Cruise package at the Marriott Lakeside Orlando Airport is a top hotel option given its close proximity to the airport. Harmony of the Seas cruisers also love taking advantage of the unique outdoor amenities, including an indoor and outdoor pool with cabanas, a hot tub, poolside bar, lakeside deck, hammocks, and a fire pit. There's also a 24/7 market serving quick-serve bites and caffeinated drinks as well as an American-fare restaurant where lunch and dinner can be purchased. All airport and cruise port transfers are included in this package.
(2) Holiday Inn Orlando Airport: The newly-renovated Holiday Inn Orlando Airport is GoPort.com's most popular Fly Snooze Cruise package choice among Carnival Liberty cruisers flying in. Not only is this hotel located just 5 minutes from the Orlando International Airport, but it also has a restaurant on site that serves breakfast, lunch, and dinner. There's also plenty of amenities, like a heated outdoor pool, hot tub, sports courts and lounge. Airport transportation and cruise transfers are also included in the package. For cruisers driving down I-75, this hotel doubles as a convenient Snooze Park Cruise hotel option to unwind at on your way to the port. Cruise parking and transfers are included in this package at GoPort's parking facility that's just 10 minutes from Port Canaveral.
(3) Hilton Oceanfront Cocoa Beach: It's no surprise GoPort.com's Snooze Park Cruise package at the Hilton Oceanfront Cocoa Beach is a top pick for Carnival Liberty cruisers driving in. This hotel has direct beach access, making it perfect for those looking to enjoy some fun in the sun before setting sail. Some of the Hilton's top amenities include a heated outdoor pool with a sundeck and tiki bar, aquatic rentals, and an on-site restaurant and coffee bar. Besides having a family-friendly atmosphere, GoPort's Snooze Park Cruise package for this hotel includes cruise parking and transfers, with the convenience of leaving your car right at the hotel for the duration of your cruise. For cruisers flying in, a Fly Snooze Cruise package at the Hilton is also a great choice if you're arriving early and want to enjoy the benefits of staying on the beach.
(4) Fairfield Inn Orlando Airport: The Fairfield Inn Orlando Airport, just 4 minutes from the Orlando International Airport, is another favorite for Carnival Liberty cruisers booking a Fly Snooze Cruise package through GoPort.com. Airport transportation and cruise transfers are included in this package as well as a complimentary hot buffet breakfast. There's also an outdoor pool and hot tub to take advantage of. For cruisers driving down I-75, this is another great Snooze Park Cruise hotel option on your way to the port. Cruise transfers and cruise parking and are also included in this package at GoPort's parking facility located just 10 minutes from Port Canaveral.
Cruise Parking
If you have a short drive and just need cruise parking, it's important to understand how rates are calculated before finding your best option. Most parking facilities advertise a pay-per-day rate and charge you for every calendar day your vehicle is parked. Seems straight-forward, but even though your cruise ship returns back to Port Canaveral early in the morning, you'll still be charged for a full day of parking at these facilities.
On top of that, this pricing structure often comes with additional hidden fees and unexpected transfer charges. How can you avoid these unexpected costs? When you book with GoPort.com, cruise parking is included with the price of transfers to and from your ship for one flat fee. This can add up to big savings. Located just 10 minutes from Port Canaveral, GoPort's parking facility is paved and lighted with shuttles that drop you off right at your Harmony of the Seas terminal.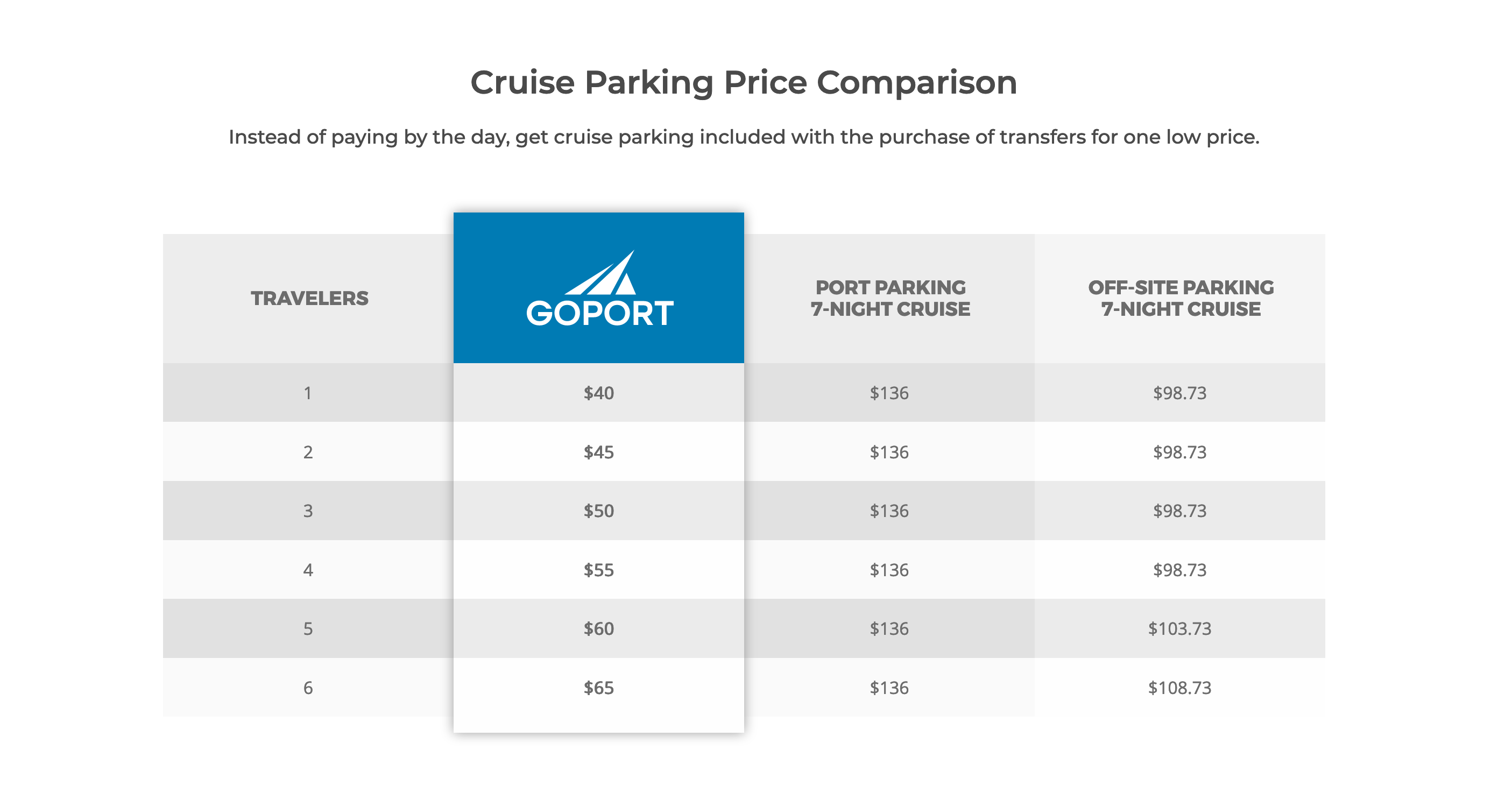 To book any of these packages, visit goport.com. For an extra 5% off your order, use code TALKINGCRUISE at checkout!