MSC Cruises revealed the two new original shows that will be featured on the MSC Meraviglia when she launches in June 2017.
With two performances each night, six nights a week, guests will have the opportunity to see both distinct productions.
VIAGGIO, the first of two shows, is the story of a passionate and eccentric artist who hears the call of his Faceless Muse. Mysterious and seductive, she beckons him into the vivid world of his unbridled imagination to complete his masterpiece. With each stroke of his paintbrush, the painter reveals the details of his grandiose tableau. Electrifying colors fill the space with intriguing motifs and rich textures. Majestic acts transform the theater into a living canvas. Before our very eyes, a masterpiece comes to life.
With sound at its heart, SONOR, the second show, takes guests on an auditory adventure with dancers, acrobats and characters, all moving to the rhythm. Conjuring a world of unique sensations, astonishing sounds, bold music and immersive projections, SONOR culminates in a grand finale for the senses.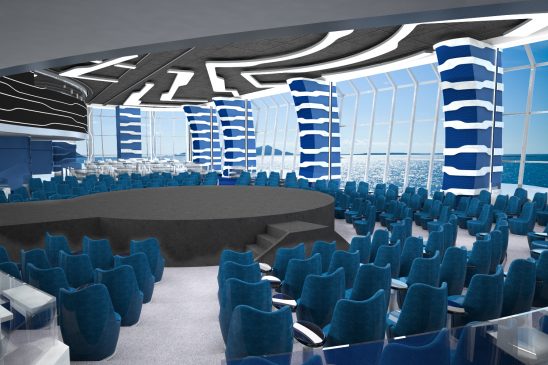 Equipped with cutting-edge technology and special rigging, the Carousel Lounge will enable Cirque du Soleil performers to deliver sublime performances exclusively for MSC Cruises guests to enjoy. The lounge is an intimate space, hosting up to 413 guests for each performance — one of the smallest venues for Cirque du Soleil — providing for an up-close and special interaction between the guests and performers.
Guests booked on MSC Meraviglia can pre-book or reserve onboard and choose from either the Cocktail & Show experience for $17 per person or Dinner & Show expereince for $39 per person.
Cirque du Soleil at Sea will also be featured on the recently announced MSC Bellissima in Spring 2019 and two Meraviglia Plus class ships in October 2019 and September 2020. Each ship will have their own original productions and details will be announced at a later date.
MSC Meraviglia will also feature a Promenade with LED Dome ceiling, duplex suites, family accommodations and extensive outdoor amusement area with water park and ropes course. MSC Meraviglia is also scheduled to sail from Miami in 2019.
---
This MSC Meraviglia was presented on our New Cruise Ship Preview – MSC Meraviglia show on May 19, 2017.
View Show