Orlando International Airport (MCO) is Florida's busiest and if you're cruising from Port Canaveral, it's also your ideal choice. It may surprise many to know that the distance to Port Canaveral from the closest major airport in Orlando is the furthest compared to airports serving all other Florida Cruise Ports. There are many options to get to Port Canaveral, the second busiest cruise port in the world, but, what's the best way to make the 45-mile journey each way.
Why Fly into Orlando (MCO)
Just about all major airlines fly into Orlando International Airport, giving cruise travelers the most options when coordinating flights for their cruise. While large, the terminals are easy to navigate with automated shuttles operating between the main terminal buildings and gates. Before or after your flight, you'll find tons of excellent quick and full-service dining options and shopping from your favorite restaurants and retailers.
Airlines serving Orlando International Airport:
| | | | |
| --- | --- | --- | --- |
| Aer Lingus | AeroMexico | Air Canada | Air Transat |
| Alaska Airlines | American Airlines | Avianca Airlines | Azul Airlines |
| Bahamas Air | British Airways | Caribbean Airlines | Copa Airlines |
| Delta Airlines | Edelweiss Airlines | Emirates | Flair Air |
| Frontier Airlines | GOL Airlines | Icelandair | Interjet |
| JetBlue | Latam Airlines | Lufthansa | Miami Air |
| Norwegian Air | Silver Airways | Southwest | Spirit |
| Sun Country Airlines | Sunwing Airlines | Swoop | Thomas Cook |
| United Airlines | Virgin Atlantic | Volaris | WestJet |
| World Atlantic Airlines | Wow Air | | |
What are your Transportation Options to Port Canaveral?
If you're flying in the day of your cruise departure, you'll need a way to get to your ship. Let's look at some of your options below.
Rental Cars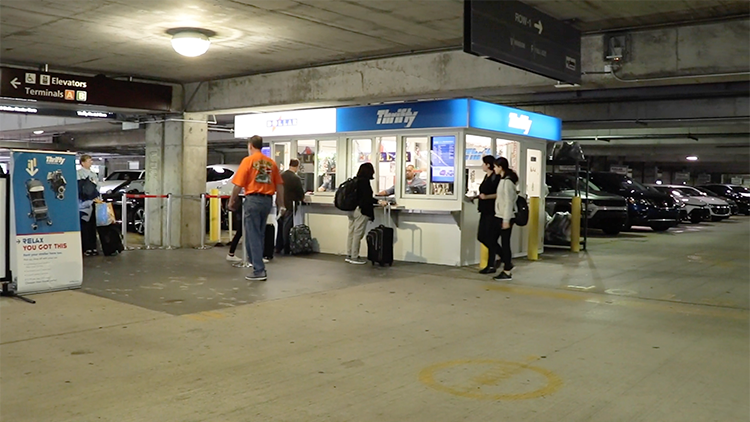 While many rental car agencies have convenient service locations within Orlando Airport, that's where the convenience ends. Once you've completed the required paperwork, you'll first need to pick up your car from the airport garage. Before reaching your cruise terminal, you'll need to stop at the rental car drop off location, and complete the transaction, before boarding one of their shuttles to the cruise terminal. After your cruise, you'll need to do that all over again.
Taxi/Uber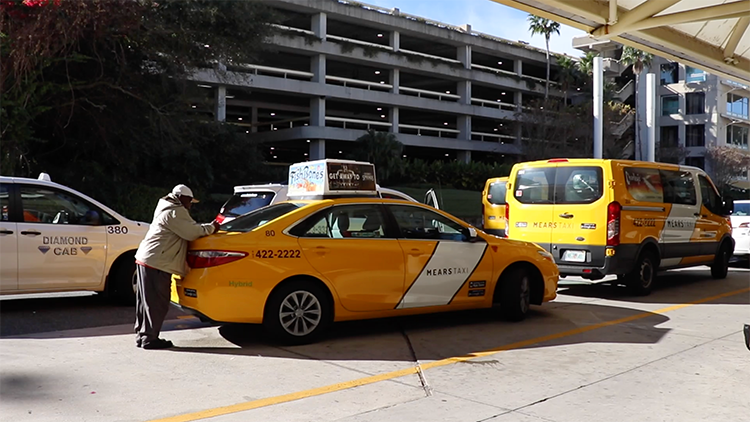 While taxis are plentiful from the airport and they will drop you off right at your cruise terminal, you can expect to pay a higher amount and if you are not a light packer, extra luggage may be a problem. An Uber may cost you less, but then you could have an issue of reliability, or surge pricing and you may also require a larger vehicle, increasing the price for excess luggage.
Cruise Line Transfers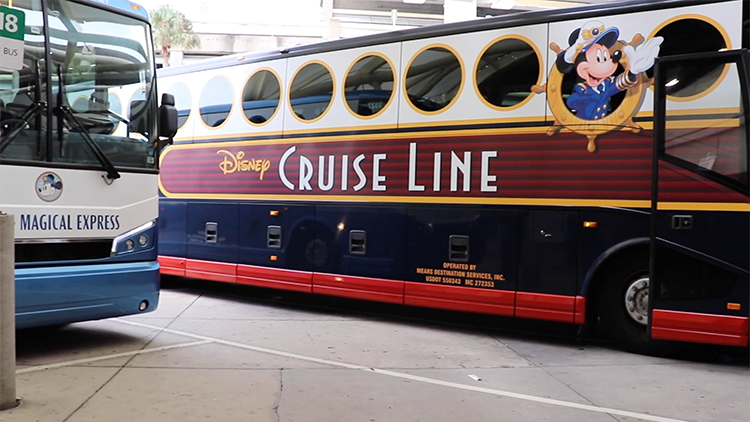 You can buy transfers directly from your cruise line, but they tend to operate on less frequent schedules and since they charge you per person, you can expect to pay a significantly higher amount. In fact, cruise line transfers will probably be your most expensive option.
Go Port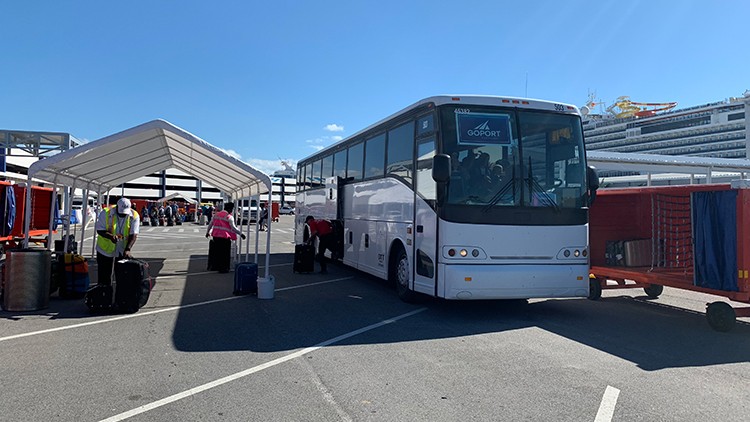 What's the best way to get to your cruise on time and without the stress? As the number one provider of reliable transportation services to Port Canaveral for the past 10 years and with high customer satisfaction ratings, Go Port's Orlando Airport to Port Canaveral Cruise Shuttles are prearranged online from home in a few easy steps.
Once you arrive at the Airport, all you need to do is check in at the Go Port counter located in the lower level of Terminal A. Your friendly driver will assist you with loading your luggage onto your air- conditioned luxury coach and if you've got a large group, no problem, your entire party can be accommodated.
All that's left to do, is sit back and enjoy the relaxing trip knowing you'll be taken directly to your cruise ship, on time, without the hassle and for less money. When the cruise is over, a Go Port Canaveral onsite greeter, will check you in and guide you to your coach for the trip back to the Orlando Airport.
What about Flying in the Night Before Your Cruise?
From experience, we always recommend flying in the night before your cruise departure and staying at a hotel. Orlando Airport hotels are plentiful, but you'll need a way to get from the airport to your hotel and from the hotel to your cruise ship in the morning. You could just book a hotel, grab a taxi from the airport and then figure out a way to Port Canaveral, but why make things more complicated.
Go Port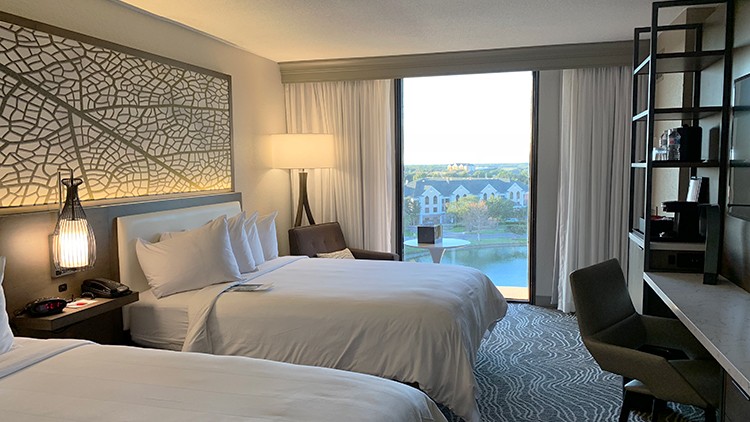 Go Port's Fly Snooze Cruise Packages are simple to book online, offer the convenience of a bundled hotel with transportation and will save you money. Your package includes a timely shuttle from the airport to hotel, hotel accommodations, pick up and transfer by luxury coach from the hotel to your cruise ship and return transfer service back to the airport at the end of your cruise. You'll have a choice from over 30 hotels, representing major brands you know and have the ability to select the one that matches your needs the best. With hotels close by the Orlando Airport and Port Canaveral, you'll have the added benefit of convenience.
You can check out the latest offers and receive a special promo code at GoPort.com
Also Read: 20 Cruise Ports You Can Drive To In The United States