If you're flying in for your Port Canaveral cruise, you've probably been advised to fly in the day before embarkation. But what if that's not an option for you? Whether it's a matter of limited vacation time or the added expense just doesn't fit into your budget, there may be circumstances that make it difficult to arrive a day early. Flying in the same day your ship sets sail is a bold move. But don't worry— if you plan accordingly, you can still make it to the port on time for embarkation!
Below we'll give you all the tips and tricks you need to know when flying in the same day your cruise departs.
Choosing an Airport
Picking the right airport is essential. When it comes to Port Canaveral cruises, you'll have three options to choose from: Orlando International Airport, Orlando Sanford Airport, and Orlando Melbourne Airport. Although they're all considered "Orlando" airports, the commute time between each one and Port Canaveral ranges significantly. For example, the Melbourne Airport is only 29 miles from the port, but it'll take you about an hour to get there due to city traffic. The Sanford Airport is the furthest away with a 61-mile commute that takes well over an hour. Out of the three, Orlando International Airport is the most popular and convenient option. It's 45-miles away, but with its direct highway access, it'll take you just under an hour to get to the port. You'll have the largest selection of airline carriers and your commute will be the shortest of the three. Every minute counts, especially if you are flying in the same day of your cruise!
Scheduling Your Flight
Although it's the best option, Orlando International Airport is still 45-miles away from Port Canaveral. You'll want to give yourself plenty of time to get to your ship by choosing a flight that arrives before 12 PM. This will allow you to get through baggage claim and be on to your way to the port by 1 PM. Keep in mind that most Port Canaveral ships sail away at 4 PM so you'll want to leave this extra wiggle room for unforeseeable traffic en route to the port.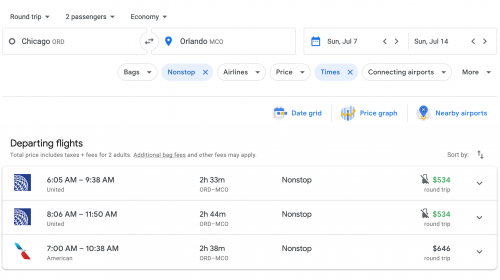 If possible, you'll also want to try and book the first flight of the day as these have a smaller chance of being delayed. Be sure to choose a non-stop flight too, not to be confused with a direct flight. There's actually a difference between the two. Direct flights have the freedom to make one or more stops along their route, so it's smart to avoid them.
Lastly, for added peace of mind, you can also check to see if there are later flights that will still get you there before embarkation. That way, if your first flight gets canceled, there's a chance you can catch another one!
Luggage Tips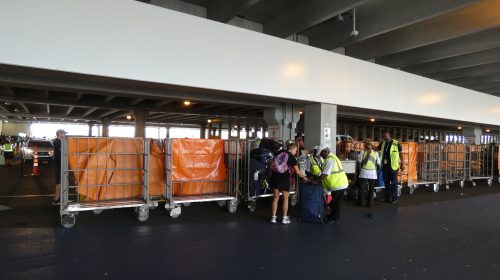 When flying in the same day as your cruise, packing light can save you a lot of trouble. Collecting luggage at Baggage Claim typically takes about 45 minutes and if your luggage gets lost or delayed it can be days before you get it back. So skip the checked luggage and bring a carry-on instead, you'll save yourself both time and stress.
If ditching the large luggage is a deal-breaker and you need more space for your belongings, don't forget to cross pack! Put any necessities in your carry-on and pack everything else in your checked luggage. That way, if your checked luggage doesn't make it to your destination, you'll at least have a few things with you to get you through your cruise.
Cruise Transportation
After all the hassle of having to wake up early and land before noon, the last thing you want to worry about is how you're going to get from the airport to the port—and remember it's a 45-mile ride. Reserving a reliable shuttle service ahead of time can make the rest of your journey a breeze.
Go Port  is a 4-star rated cruise ship transfer service that provides one-way and round-trip luxury coach rides to and from Port Canaveral. For only $14.99 per cruiser each way, it's much more affordable than the typical taxi service or booking transfers through your cruise line. With taxis costing upwards of $120 and cruise lines charging about $35 per person each way, using Go Port will save you over 50%.
Simply book your ride ahead of time, so all you have to do when you land at the airport is check in at their counter and board the next available shuttle. The process is seamless and can save you a lot of time. Go Port's shuttles run on a regular basis from 10 AM to 1 PM.  And best of all, they'll drop you off right at your Carnival, Disney, Royal Caribbean, or Norwegian terminal on time for your cruise.
You can check out the latest offers and receive a special promo code at GoPort.com