Perfect Day at CocoCay is the reimagining of Royal Caribbean's private Bahamian island. For years, the island has offered cruise guests a nice, tranquil beach day experience and that will still be an option at Perfect Day at CocoCay.
In this picture tour, we present the open areas of Phase One, which includes the Thrill Water Park, Zip Line, Splashaway Bay, Oasis Lagoon, Chill Island, Up Up and Away Helium Balloon and casual dining options.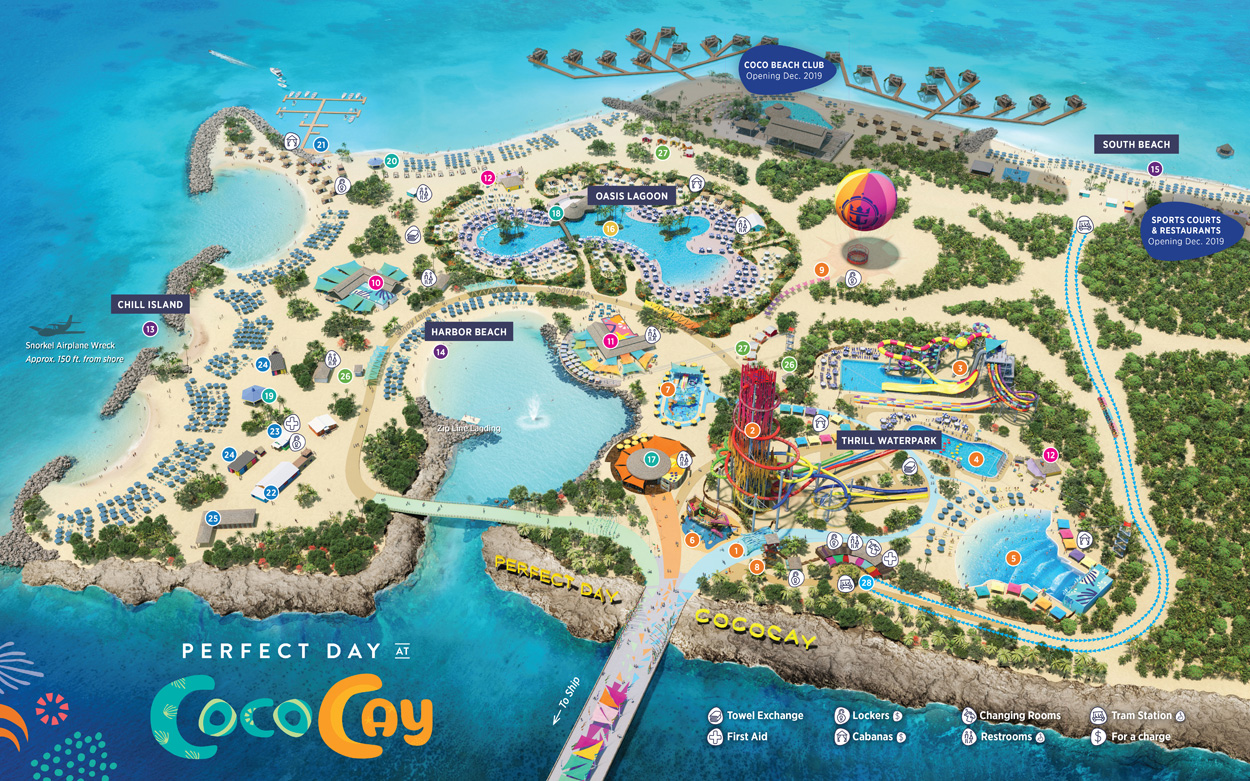 Welcome Pier & Tram Service

The first thing you'll notice when you step off your ship is the brand new pier that was constructed to easily get guests to the island without the need for tender boats. Arriving on CocoCay, you'll be greeted by locals dressed in Bahamian Junkanoo costumes moving along to music from the island band. Complimentary tram service is offered steps away from your ship that will run scheduled service to the Thrill Waterpark, South Beach and back to your ship.
Captain Jill's Galleon
Captain Jill's Galleon is the perfect spot for your little pirates to cool off with some waterplay in this multi-level pirate ship with crow's nest, slides, water cannons and more.
Splashaway Bay
Borrowing from the onboard splash parks on Royal Caribbean ships, this Splashaway Bay is the largest ever with two giant dump buckets, raised platforms with suspension bridge, sprays, fountains and smaller versions of the Thrill Waterpark slides.
Thrill WaterPark ($)
If you're looking for an exciting way to spend your time on the island, then the Thrill Waterpark is a must do. Featuring Daredevil's Tower with multiple slides including the tallest in North America, Splash Summit family slide area, the Adventure Pool with obstacle course and the largest wave pool in the Caribbean. At the main entrance you'll find complimentary lockers, and personal indoor shower stalls for women and men. Pricing for the Thrill Waterpark varies between cruise departure dates.
Thrill Waterpark ($) – Daredevil's Tower
Not for the faint of heart, Daredevil's Tower features seven slides each more thrilling than the next as you make your way to the top. Start your domination of Daredevil's tower with the Manta Raycers a pair of twisting slides, move on the Screeching Serpent, with a 50 foot vertical drop, tame the Green Mamba, with its quick twists and turns, challenge a friend on the Dueling Demons, twin drop slides that send you down 75 feet from a vertical position and summon your courage to Daredevil's Peak, sending you from a dizzying height of 135 feet (tallest waterslide in North America) on a speed climbing ride as you spiral down the outside of the tower.
Thrill Waterpark ($) – Splash Summit
With 6 slides designed for family fun, Splash Summit features Twister, a winding tube ride with single and double rider rafts, Splash Speedway, a four-lane, head first mat racer slide and Sling Shot, where up to four guests on one raft, snake through a tube, before literally hitting the wall then plummeting back down.
Thrill Waterpark ($) – Adventure Pool
With several fun and challenging elements like a series of floating pads, suspended ropes and in-pool rock wall, the Adventure Pool has hours of water fun.
Wave Pool
As the largest Wave Pool in the Caribbean, you'll never have to wait to catch a wave. With a sloped beach entry and section with splash area, guests can hang out on the shore or head out to the deep end and float around in the endless waves.
Thrill Waterpark Cabanas ($)
There's plenty of seating and umbrellas around the Wave Pool, Splash Summit and the Adventure Pool, but for a relaxing retreat, rent a Cabana including Thrill Waterpark access for up to 6 guests, complete with sofa, two sun loungers and chairs, a dedicated attendant, USB power outlets and cooler stocked with bottled water. Cabanas are located around Wave Pool, Splash Summit and Daredevil's Tower. Pricing varies between cruise departure dates.
Zip Line ($)
Starting outside the entrance to the Thrill Waterpark, you'll soar over the slides and pools as you zip your way between landing towers along the 1,600 foot zipline before splashing through the fountain in the Harbor Lagoon. Pricing varies between cruise departure dates.
South Beach
Although there will be some redevelopment of South Beach opening in December 2019, currently guests can enjoy a beautiful white sand beach with sun loungers, hammocks, beach volleyball, and watersport rentals like paddle boarding, snorkeling and kayaking. There are also two beach bars, a cool floating bar and beach bungalow rentals.
Up, Up & Away Balloon ($)
Get away from it all with a 10-minute ride in the helium balloon giving you an unparalleled views from 450 feet above. Pricing varies between cruise departure dates.
Oasis Lagoon
Who doesn't like to lounge by a pool, especially when it is the largest freshwater pool in the Caribbean. Access to the Oasis Pool is complimentary and features a sloped beach entry with fountains, two in-pool islands with seating ledges, ample seating and umbrellas around the pool and massive tiki-hut Oasis Lagoon Bar with patio seating and swim-up bar.
Oasis Lagoon Cabanas ($)
Nestled around the outer edge of the Oasis Pool and close to the tiki bar, you'll find the Cabanas, complete with sofa, two sun loungers and chairs a dedicated attendant, USB power outlets and cooler stocked with bottled water. Pricing varies between cruise departure dates.
Shore Excursions ($)

Enjoy some time off the island with shore excursions like swimming pigs tour, Stingray City Bahamas, reef snorkeling, glass bottom boats or the exhilarating wave jet tour.
Chill Island
As the name implies, if you just want to lay out in the sun, swim in the blue water and not much else, Chill Island is for you. Find your spot from one of the many beach loungers, head over to the Wacky Seagull bar, order up a Coco Loco and you've got the start to your perfect day.
Chill Island Cabanas ($)
Located around a cove, the Chill Island Cabanas are close to food and drink and are complete with sofa, sun loungers and chairs a dedicated attendant, USB power outlets and cooler stocked with bottled water. Pricing varies between cruise departure dates.
Chill Grill & Skipper's Grill

Enjoy a complimentary beach BBQ at Chill Grill, along Chill Island beach or Skipper's Grill along Harbor Beach, featuring chicken, hamburgers, hot dogs, salad bar, pressed sandwiches, tacos and sides like corn on the cob, potato salad and french fries and sweets like cakes, cookies, fruit and soft serve ice cream. There is also a bar and self-serve beer station for extra cost.
Snack Shack
With locations within the Thrill Waterpark and steps away from the Oasis Lagoon, you can enjoy a complimentary causal bite from the Snack Shack, offering burgers, sandwiches, salads and desserts.
Harbor Beach
Located close to the pier and re-developed from the old CocoCay tender boat landing area, Harbor Beach and Lagoon offers a great location to swim and play on the beach within close proximity to your ship. You'll also enjoy easy access to restrooms, lockers, dining and beverages.
Captain Jack's ($)

Located towards the main island entrance, Captain Jack's bar is a fun spot to enjoy a drink from the full-service bar along with some wings & fries for extra cost. While you're there, catch some live entertainment, play a table-top games of checkers or Jenga and take in the views of people zip lining over the Harbor Lagoon, but don't stay too long or you may watch your ship leaving without you.
Also Read: Navigator of the Seas Back from $115 Million Dry Dock