As cruise ships have gotten bigger and bigger of the years, the onboard experiences have become more incredible and a big part of the cruise selection process. The latest cruise ships are feature-filled with the latest technology guaranteed to provide thrills, test your skills and sometimes spills. In this post, highlighting the best of the best, we present our list of the Top 10 cruise ship activities found onboard some of the most amazing vessels in the world.
(10) Guest Participation – If you have an inner star waiting to come out, or just like grabbing the spotlight, a cruise can help you shine with activities like karaoke, guest competitions, dance classes, trivia and fun game shows.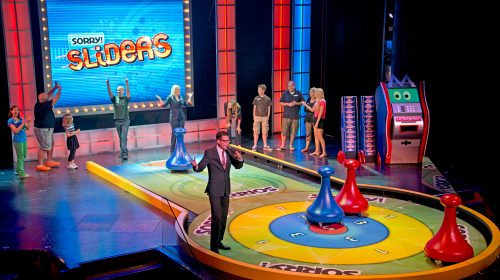 (9) Casino & Gaming – Just about every cruise ship offers a casino onboard with every imaginable table game and the latest in slot technology. There are also opportunities to win money and prizes with tournaments and the ever-popular Bingo games.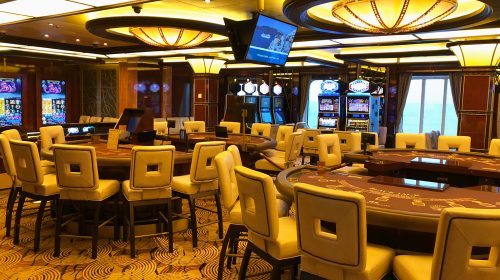 (8) Spa & Fitness – For those that want to maintain a fitness regimen at sea, you'll find state-of-the-art fitness centers with the latest equipment and available classes. If chill is more your thing, the onboard spa provides attentive pampering while on some ships, thermal suites offer a myriad of water and aroma therapies as well as heat and steam environments.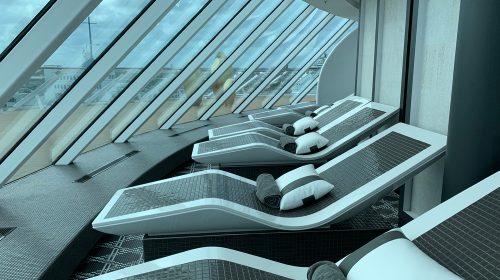 (7) Simulators – With today's amazing technology, cruise lines like Carnival, Norwegian and MSC Cruises have started offering simulator experiences where you can ride in a F1 race car, fly you own plane or trek through ancient landscapes and have undersea adventures and more in immersive thrill theaters.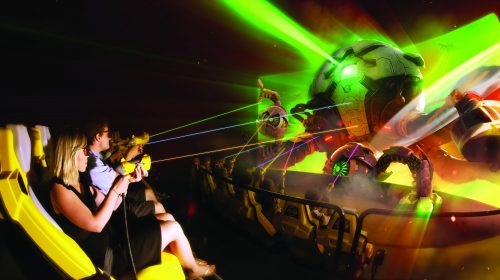 (6) Amusements – There are cruise ships offering "county fair" type activities like the bumper cars and carousels found on some Royal Caribbean ships, as well as team experiences like Escape Rooms and Laser Tag available on Royal Caribbean and Norwegian Cruise Line.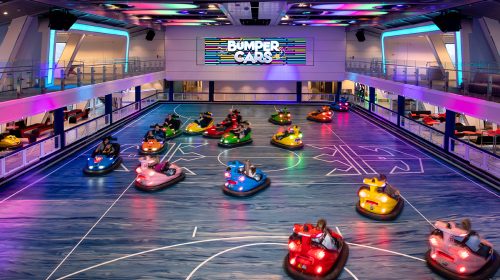 (5) Active/Sports – For those that like to have fun while staying active, there are multiple activities onboard cruises ships. A signature item found onboard Royal Caribbean ships is the rock wall, with two of the largest on each Oasis class ship. Norwegian Cruise Line also has rock climbing walls on several of their ships. Challenging ropes courses can be found on several cruise ships from Carnival, Norwegian and also MSC Cruises. Basketball courts can be found on numerous ships from virtually every cruise line. For those that like to hit the links, there a variety of mini-golf courses, affording some of the best views onboard. If bowling is more in your lane, bowling alleys can be found onboard select ships from Norwegian and MSC Cruises. Introduced onboard Voyager of the Seas over 20 years ago, in addition to watching world class ice shows, guests can ice skate onboard Royal Caribbean's Voyager, Freedom and Oasis class ships. Debuting onboard Carnival Panorama, SkyZone trampoline park participants can joust an opponent off the balance beam, climb a swinging rope ladder, go for a slam dunk in the hoops section or just bounce around. Onboard Royal Caribbean's Quantum class ships, RipCord by iFly gives guests the opportunity to try skydiving in a controlled environment. A recent addition to Royal Caribbean's Mariner and Independence of the Seas, plus new ships Spectrum of the Seas and coming to Odyssey of the Seas is Sky Pad, a fusion of a bungee trampoline with virtual reality giving guests a gravity defying ride that's out of this world. Royal Caribbean's FlowRider allows many guests to try surfing for the first time. Their locations at the back of the ships on the Voyager, Freedom, Oasis and Quantum class ships offer riders an amazing view.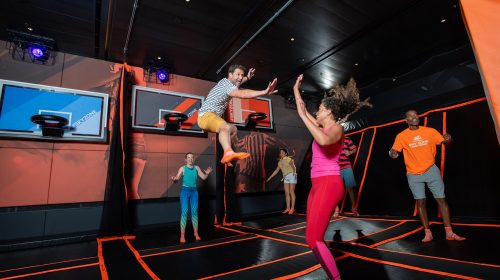 (4) Water Parks & More – Many ships from Carnival, Disney, Royal Caribbean, Norwegian Cruise Line, MSC Cruises and others, feature water parks or water play areas. Versions of Carnival's WaterWorks can be found on just about every ship in their fleet with multiple slides and splash parks. Disney Cruise Line has the signature Mickey spiral slide, splash areas for younger cruisers, AquaDunk on Disney Magic and AquaDuck on Disney Dream and Disney Fantasy, taking guests on a thrilling wet and wild ride. Royal Caribbean has been adding water parks to their ships during dry docks and new builds. Most notable is the Tidal Wave boomerang slide, found onboard Liberty of the Seas, Rip Tide, the head-first mat racer and The Blaster water coaster found on the newly "amped" Navigator of the Seas. Norwegian Cruise Line's AquaParks found onboard their newer ships offer some impressive thrills like "Ocean Loops", "The Whip" or the "Aqua Racer". Not to be outdone, MSC Cruises' latest ship classes including Meraviglia and Seaside each offer wonderfully themed water parks with multiple slides, interactive water features and splash areas.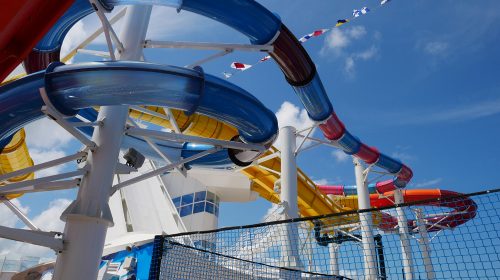 (3) Vertical Thrills – Taking the thrills higher (literally), we present four activities that will make anyone afraid of heights squeamish. Onboard Royal Caribbean oasis class ships, the Zip Line traverses an 82-foot span while suspending riders 9 decks above the boardwalk. Want to race a friend, the dual zip lines on MSC Cruises Seaside class ships provide a fast trip along the 394-foot run. A recent addition to Carnival Cruise Line's Vista class ships, SkyRide, is a recumbent bike attached to an 800-foot-long suspended track that is completely pedal-powered, and takes in the amazing views from a vantage point 150 feet above the water. Found onboard Oasis, Harmony and Symphony of the Seas, The Ultimate Abyss slide winds down 10 stories from the Sports Zone on Deck 16 to the Boardwalk on Deck 6, with guests experiencing a sensory tripping overload of lights, sounds and twisting fun. North Star found onboard Royal Caribbean's Quantum class ships, takes guests on a scenic ride from within the air-conditioned comfort of a jewel-shaped capsule. Up to 13 guests at a time can enjoy the 15 to 20-minute rides which operate on a varying schedule in port and on sea days.
(2) Race Track – If you feel the need for speed while on your cruise vacation, the two-level race tracks, found exclusively onboard Norwegian Cruise Line ships Norwegian Joy, Norwegian Bliss and Norwegian Encore offers the exhilaration of hairpin turns as you challenge family and friends to a race.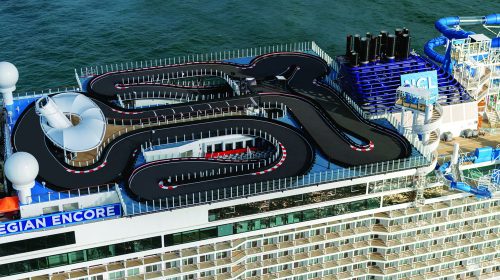 (1) Roller Coasters – As crazy as it might sound, you will soon be able to ride a roller coaster at sea. Carnival Cruise Line's largest ship ever, Mardi Gras, will debut Bolt, featuring two-seater electric motor vehicles capable of speeds up to 40 mph providing many, twists, turns and ultimate ocean views across the 800-foot track. Asian Cruise Line, Dream Cruises will be launching Global Dream in 2021. This massive 208,000 gross ton ship will feature many incredible spaces, but most anticipated is the Dream Park at the Pier amusement park, offering a variety of fun activities, topped off by a roller coaster which the cruise line says will be the longest at sea.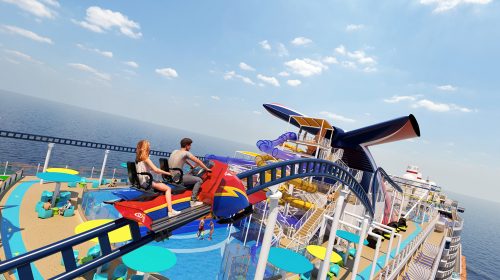 Also Read: Top New Cruise Ships Arriving in 2020