MSC Cruises have provided details of the immersive, futuristic MSC Starship Club featuring Rob, the first-ever humanoid, robotic bartender at sea. The MSC Starship Club will be exclusively available onboard the line's newest flagship, MSC Virtuosa, when she enters service in April 2021.

Also Watch: MSC Seashore – Cruise Ship Preview (2021)
The integrated bar and entertainment experience is inspired by MSC Cruises' vision of the spaceship of the future. MSC Starliner One is enabled by state-of-the-art technologies to create a futuristic atmosphere with 3D holograms, an immersive digital art wall and a 12-seat infinity digital interactive table, giving guests the opportunity to explore space with their own personalized galactic tour. Rob will mix and serve his signature cocktails — both alcoholic and non-alcoholic — and countless personalized drinks, just like a human bartender would do, while engaging with and speaking to guests and using human-like expressions for a fully immersive bar experience. Rob's skills and emotional responsiveness, combined with bartenders dressed as if straight out of a sci-fi movie and immersive technology, create a must-visit attraction for all ages at the MSC Starship Club.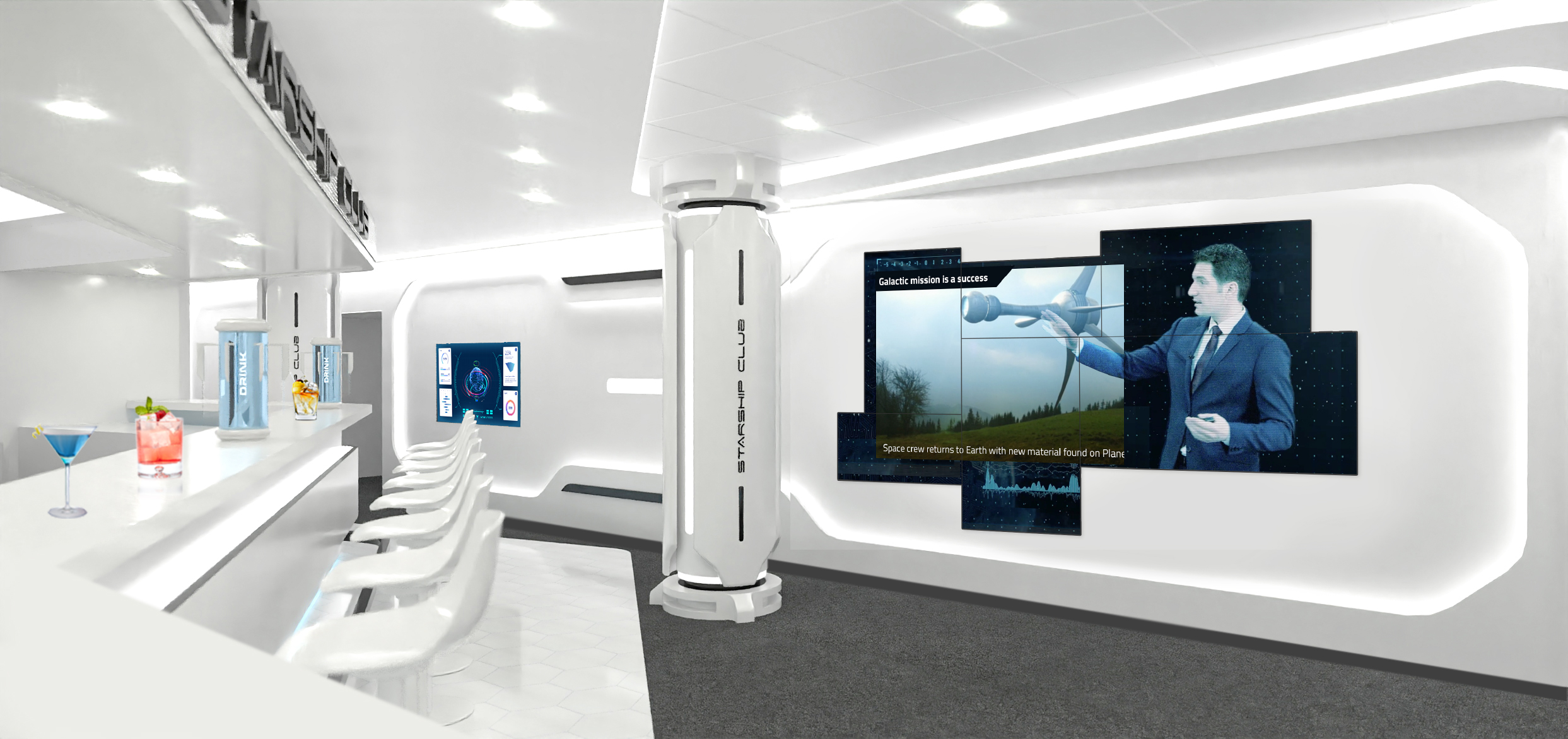 Guests will use specifically designed vertical digital cockpits in the area to place their order. Rob will then get to work and use all of his customized robotic skills to prepare the cocktails — pouring spirits, juices and syrups; shaking, building or stirring the concoctions; and garnishing. Rob can not only prepare an impressive range of cocktails, but also speak eight languages (English, Italian, Spanish, French, German, Brazilian Portuguese, Chinese and Japanese), according to the language chosen when the guest places an order. He also has a clear personality that evolves with the surrounding setting and atmosphere, using his LED face to convey emotion so guests can enjoy his performance while sipping their cocktails.
The status of the cocktail preparation will be displayed through digital monitors and a ticker-tape-style LED strip above the robotic island while guests are immersed in the space-themed experience. The cosmic cocktails are served in custom-designed futuristic glasses for guests to collect as lasting souvenirs of the MSC Starship Club experience. Cruisers will be able to return to the club multiple times over the course of their cruise, experiencing a new interaction with Rob each time.
The MSC Starship Club has been nearly six years in the making since the first original concept, and the Company has pushed boundaries with the engineering that has gone into making this a reality. During this time, MSC Cruises has worked with leading experts from companies specializing in robotics and automation, interior design as well as entertainment and digital experience solutions to create a custom designed entertainment venue with a humanoid robot as the star.
MSC Cruises has been developing many new onboard technologies over the past several years to assist in making the cruise experience better for their guests. MSC For Me, utilizes smartphone apps, wristbands and onboard portals to create seamless interactions with crew, guests and services. They also launched their virtual personal cruise assistant ZOE in 2019, to bring advanced voice recognition into every stateroom onboard their latest ships MSC Bellissima, MSC Grandiosa and MSC Virtuosa.
For more details on MSC Starship Club and MSC Virtuosa, visit MSC Cruises website.